Huarahi Tūhono - Weber to Wimbledon
Tararua District Council has been granted funding to deliver a project to upgrade sections 44 & 63 of Route 52 between Weber, Tararua District, and the boundary of Central Hawke's Bay.
The project was named "Huarahi Tūhono - Weber to Wimbledon" during a workshop between Council and representatives from iwi and the local community. Huarahi means "road or pathway" and Tūhono means "to connect".
"The road that connects Weber to Wimbledon"
Made possible with funding administered by the Provincial Development Unit (PDU), the project will invest $14.6m in badly needed safety and resilience upgrades on this vital 26km stretch of Route 52. Project management will be overseen by the Tararua Alliance, with the support of the Tararua District Council.
As one of many across New Zealand approved as a "Shovel-Ready Project" (a funding stream set up in response to the Covid-19 Economic Response Package), the project is subject to achieving both physical and social outcomes.
---
The Huarahi Tūhono - Weber to Wimbledon - Project Site Map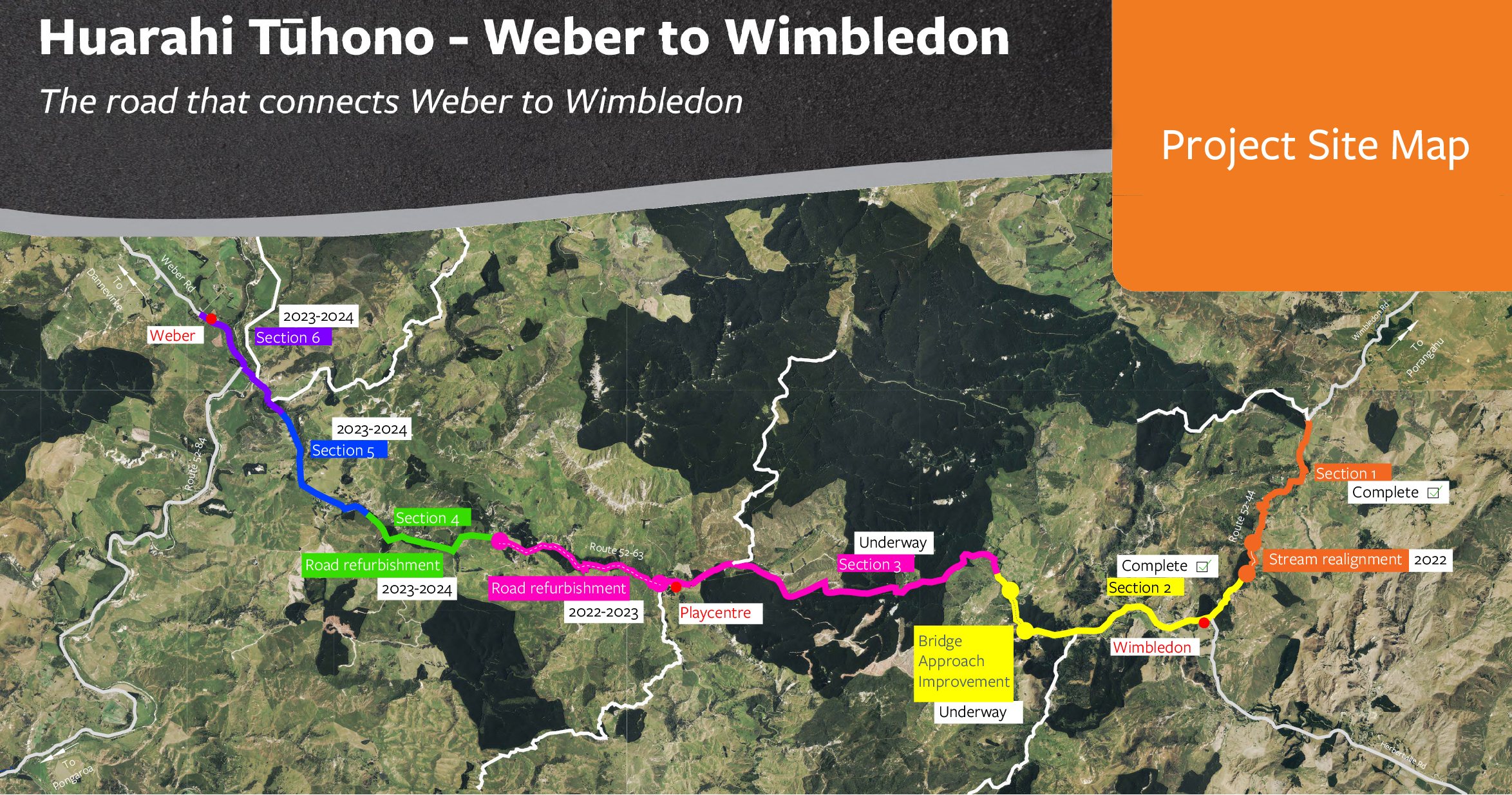 ---
Physical Outcomes
Upgrade all bridges so they can support high productivity motor vehicles (HPMVs)
Address the key geotechnical and pavement condition issues of the route
Design and construct to align future maintenance costs with the network average
Improve safety of high-risk sections (improving against performance measures outlined in the One Network Framework)
Upgrade the route with the aim of providing a consistent journey between Dannevirke & the boundary of Central Hawke's Bay
Social Outcomes
Provide a safe route for the community
Engage the local community (employ local people, upskill local people)
Support the economy's recovery from Covid-19
Improve the environment for future generations
Project update articles