Huarahi Tūhono – Weber to Wimbledon on schedule for completion in 2024
Huarahi Tūhono – Weber to Wimbledon is the road upgrade project on Route 52 between Weber and the Central Hawke's Bay district boundary. Planning and construction works continue to progress, with the project on schedule for completion in April 2024. Road upgrades started in January 2021 and aim to improve resilience, accessibility and safety along the route.
Recent weather events in February and March again highlighted the lack of resilience in the road and why improvements are needed", says Chris Chapman, Group Manager – Infrastructure at Tararua District Council. "Heavy rainfall caused significant damage to large sections of the road, including slips and washouts. Geotechnical investigations are supporting the team to understand challenges with the land around the road, and then determine suitable engineered solutions to improve the road's ability to withstand storm events."

Project Manager, Andrew Desmond, says; "A range of solutions are being used to improve the road, including improved drainage for surface and subsoil water, and retreating the road onto more stable ground, which will reduce the likelihood of issues such as slumping."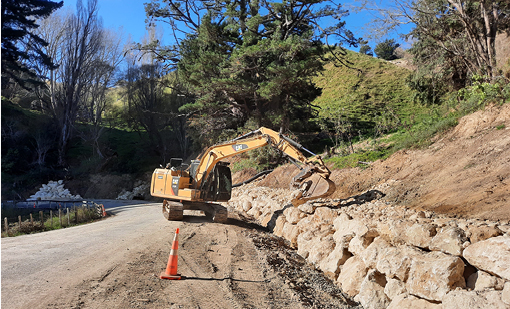 Safety improvements are also a major focus with various sections of the road being made straighter and wider, and improvements being made to improve the overall visibility. Current safety works include road shoulder and corner widening in the area around the Wimbledon Gorge to improve visibility and allow vehicles to safely pass.
Besides road improvements, this "Shovel-Ready Project" is expected to have a positive impact on community wellbeing, unlock long-term social benefits, and help lift the economy of Tararua District.
The project has not been without its challenges. Andrew Desmond says, "The heavy rains during the storm in March caused erosion along the banks of some sections which were under repair. This has led to delays to our schedule. We will be ramping up our work to catch up with the construction program this year. We are still on track to complete the road upgrade on the planned finish date of April 2024."

The road construction work is being managed through the Tararua Alliance, Council's partnership with Downer NZ, and delivered together with existing and new supply partners. A Government investment of $14.6 million, administered by Kānoa - Regional Economic Development & Investment Unit (Kānoa – RDU), has allowed Tararua District Council to significantly expand its roading programme on Route 52.

Andrew Desmond says that the community have been very supportive of the road upgrade, highlighted by a very positive community information meeting at Wimbledon in mid-March, "We would like to thank the community for putting up with the roadworks, supporting the project and being understanding of the challenges which we sometimes face."