Urban Kerbside Recycling coming soon - Frequently asked questions
If done properly, recycling is one of the most effective ways to protect and conserve the environment we live in. Your recycling helps to reduce pollution in our beautiful district and contributes towards a better environment for us all.
The kerbside recycling service for urban properties in Dannevirke, Eketāhuna, Pahiatua and Woodville will kick off next week. People have shown a lot of interest in the new recycling service and have asked Council more great questions. We have compiled the most frequently asked questions and provided answers below.

Where do I put my bin on the collection days?
On your recycling days, please make sure your wheelie bin is out on the kerbside by 7.30am with the Tararua District Council logo facing the road. Your wheelie bin should be at least one bin space away from all other wheelie bins or objects such as trees or light poles to allow the recycling truck to lift it safely.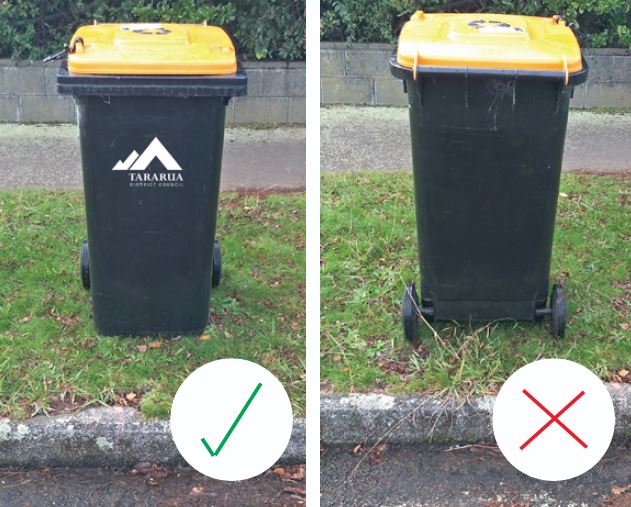 How to find out what sort of plastic I can recycle?
When you buy something plastic, it has a triangle with a number on it to tell you what sort of plastic it's made from.
Here in Tararua we can only recycle plastic with the number 1, 2 and 5 on it.
If it numbered 3, 4, 6 or 7 or has no number then it is non-recyclable and should go into the rubbish bin or be reused.

Who owns the wheelie bin and the glass crate ?
The recycling wheelie bin and glass crate are owned by Council, but belong to your property. If moving from the property, please leave the crate and recycling wheelie bin for the new occupants.

What is 'recycling contamination' ?
That is when non-recyclable materials (plastic bags, etc) are put into the recycling bins, or when recyclable materials are put into the wrong bin.

What happens when there are too many 'contaminants' in a recycling bin ?
The recycling will become impossible and it will be sent to the landfill, even though some items could be recycled. Besides harming the environment too many wrong items in a load of recycling could also result in an increased cost of service.

Will our recycling bins be checked?
Yes, the recycling bins will be randomly checked by a bin auditor. There is also a camera on the collection truck that checks the contents of bins. If your bin contains too many wrong items it may not be collected.
What will be recycled ? How to use the bins ?