Cyclone Gabrielle update 22 - General Update and Key Messages
The Tararua District remains under the National State of Emergency and continues to respond to the Cyclone Gabrielle event. In
This update will cover:
Key priorities
Facts and figures
Last 24 hours
Update on weather, roads and water
Other key information
KEY PRIORITIES
Our main priorities are now:
Gathering and validating information on affected communities
Weather watch and planning
Outreach convoy planning
Preparation for transition to recovery
Welfare needs prioritisation
Road Safety
FACTS AND FIGURES
Below are a few facts and figures we'd like to share with you:
The Tararua District has 1,400 square kilometres of area devasted or affected by Cyclone Gabrielle.
There were over 1,500 faults on our roads and bridges caused by Cyclone Gabrielle.
There are over 150 dropouts on our roads caused by Cyclone Gabrielle.
At its peak, there were 43 roads closed, most were due to Cyclone Gabrielle, that number is now 15.
4 roads that are open are only open to 4WD vehicles.
Our Emergency Operations Centre was activated on Monday, 13 February and is still activated.
The District State of Emergency was declared on the morning of Valentines Day, 14 February.
We were incorporated into the National State of Emergency the afternoon of 14 February.
LAST 24 HOURS
On Monday 27 February 2023, the Minister for Emergency Management, Kieran McAnulty extended the National State of Emergency for another seven days in response the widespread impacts of Cyclone Gabrielle.
Tararua District Mayor, Tracey Collis said "The impact of Cyclone Gabrielle is still deeply felt by many communities throughout our district and there is still much work to be carried out. I would also like to thank everyone that has donated to our Mayoral Relief Fund, our food drive and the volunteers who have assisted our communities in need, it has been very uplifting to see such a great community spirit in such challenging times"
Needs assessments visits continued throughout the day to our isolated communities and further planning took place for outreach tasks, including assisting with clean up through the help of volunteers today.
UPDATE ON WEATHER
Council continues to monitor weather watches and river levels throughout the district.
UPDATE ON ROADS
Key Message: Roads to our affected coastal regions are still very vulnerable, even more so after the recent rains. Many roads are closed to the public and are needed for the ongoing response effort. Anyone attempting to drive on closed roads, risks the safety of themselves and their passengers. It will also further degrade road conditions and hamper response efforts. Please do not travel on closed roads.
The Tararua Alliance has made great progress on our roads, opening a further 10 roads on Monday 27 February. There are now 15 closed roads. This total may fluctuate over the coming days as forecasted rainfall may have an impact along our road network.
The Tararua Alliance continue focussing on key roads to reopen and connect communities as soon as possible. Information on the Current Road Status can be found here: www.tararuadc.govt.nz/services/roading/current-road-status . If you have new information about a road, please call us or report it using our Antenno app.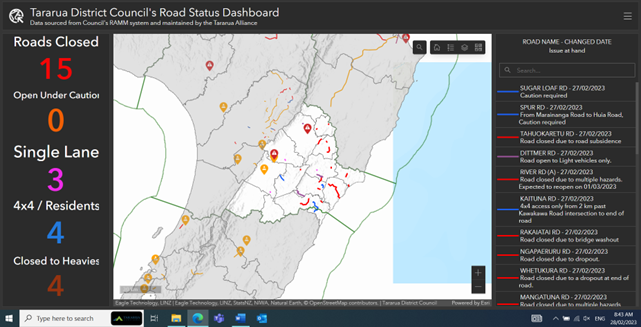 UPDATE ON WATER
Pongaroa: The Pongaroa water supply has been operating effectively.
Ākitio: The Ākitio water supply has been operating effectively.
Dannevirke: Dannevirke is still on alternate days water restrictions and residents are asked to practice water conservation to ensure the impounded water supply levels remain sufficient until we can draw water directly from the Tāmaki River again.
OTHER KEY INFORMATION
Temporary Accommodation Services (TAS): TAS supports affected households to find temporary accommodation while their home is being repaired, rebuilt or they are unable to return to access their home. Find out more at: www.mbie.govt.nz/about/news/cyclone-gabrielle-temporary-accommodation-available-for-all-affected-regions/ . The application form for this service can be found at: www.tas.mbie.govt.nz
New Zealand Claims Resolution Service: The New Zealand Claims Resolution Service (NZCRS) will provide free expert support to homeowners with insurance claims after natural disasters to avoid disputes, resolve issues and ensure claims are settled in a timely manner. If you are having difficulty resolving your insurance or EQC claim following a natural disaster, the New Zealand Claims Resolution Service may be able to help, go to: https://www.nzcrs.govt.nz/
Tenancy NZ: Tenants and landlords of rental properties can visit www.tenancy.govt.nz for information on tenancy rights and obligations following natural disasters.
River alert system: You can sign up to receive alerts on river levels by signing up to Horizons Regional Council's River Alert System. If you need any help filling out the subscription form, or would like any further information, please contact our Horizons information management team on freephone 0508 800 800. To sign up, go to: https://envirodata.horizons.govt.nz/river-alert-system
Farmer and grower recovery grants: The Government is providing $25 million to help farmers, growers, and whenua Māori landowners recover from Cyclone Gabrielle. Grants for pastoral and arable farmers/growers of up to $10,000 to help initial recovery on-farm, such as repairs to water infrastructure for stock and fencing. Learn more:https://www.mpi.govt.nz/dmsdocument/55630-Cyclone-Gabrielle-farmer-and-grower-recovery-grants
Public health advice after a flood: As you begin, or continue, the clean-up of your property key points to ensure the health and safety of yourself and others when dealing with the clean-up can be found on our website at www.tararuadc.govt.nz/news/2023/february/public-health-advice-after-a-flood .
Mayoral Relief Fund: The Mayoral Relief Fund is open for donations to help support Tararua communities find their feet after the devastation caused by Cyclone Gabrielle. For more details please go to our website at: https://www.tararuadc.govt.nz/news/2023/february/mayoral-relief-fund-for-the-tararua-district Information on how to apply for support from this fund will become available soon.
Mental Health Support: 1737 is New Zealand's national mental health & addictions helpline number. Free call or text 1737 any time to talk with a trained counsellor. It's completely free and available 24 hours a day, 7 days a week. Rural Support Trust is also available on 0800 787 254.
Welfare support is available: If you have been affected by the cyclone and need support, please contact us on 06 374 4080 or 06 376 0110 and let us know how we can help.
Community Support Package: This Ministry of Social Development (MSD) government funded package aims to relieve some of the financial pressure on community groups and contracted providers that have been delivering response and recovery assistance. For more information visit the MSD website at: https://www.msd.govt.nz/about-msd-and-our-work/work-programmes/community/community-support-package-north-island-floods-and-cyclone-gabrielle.html