Cyclone Gabrielle update 16 – General Update and Key Messages
The government extended the National State of Emergency today for another 7 days. Under this extension, Tararua District remains in its response phase until Tuesday 28 February 2023.
This update will cover:
Today's focus
Plan for tomorrow
Update on roads, water and power
Financial Assistance
Other key information
TODAYS FOCUS
Our main priorities are now:
Responding to community needs (including future convoy planning)
Gathering information on and visiting unaccounted people and property
Capturing the intelligence gathered by our community outreach team (the convoy)
An increased Police presence in Rural areas
Evaluation of council resources
Opening roads that are closed for public access
Planning for further outreach convoys
Yesterday, our outreach convoys visited the Akaroa/Rakanui, Waihi Vally, Waihoki Valley and Korora areas to conduct rural welfare needs assessments. Our teams visited over 50 families and were able to provide care packs, food and water. Building inspections were conducted.
PLAN FOR 21 FEBRUARY 2023
Today, 21 February 2023, 3 outreach convoys will be visiting families near Weber, from Tahuokaretu to Birch Road, along Route 52 from Ti Tree Point to Herbertville, and in Mangatuna. The convoys will also conduct spot checks along the way. Like previous convoys, these will be joint agency tasks to reach communities still cut off to assess their immediate needs. The Properties will be inspected for occupancy safety by building inspectors.
The information gathered from the visited locations will be further processed at our Emergency Operations Centre, where council can identify the needs of the community and coordinate supply deliveries to those in need.
This map shows the areas our outreach convoys have reached over the last week to conduct needs assessments, building inspections, delivery of care packs and more. The different colours represent previous outreach convoy dates.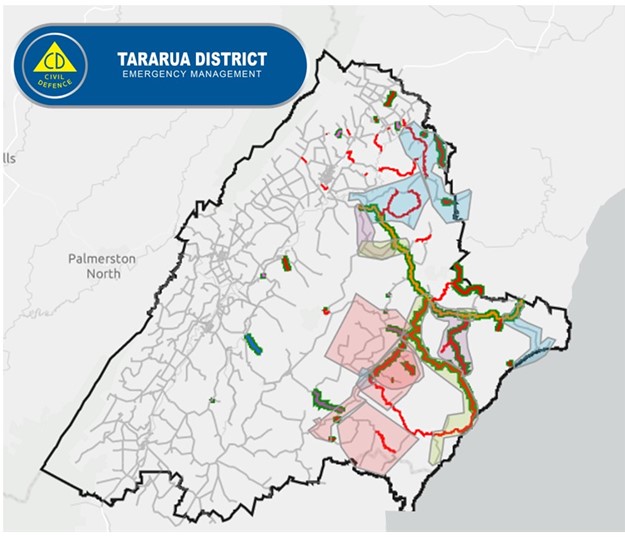 UPDATE ON ROADS
Road closure numbers continue to fluctuate as our roading teams continue to discover more damage on previously open roads. Yesterday, there were between 36 and 40 closed roads, and fluctuation is likely to continue for some days. We currently have 39 roads closed. 20 of these are open to emergency vehicles only and there are 15 roads that are closed to all vehicles.
There are 3 roads open under caution, 6 roads that are single-lane, 1 road that is only accessible to 4WD's and residents and 3 roads that are closed to heavy vehicles.
Our teams continue to update the road status on the Council website as information is received. If you have new information about a road, please call us or report it using our Antenno app.
Please continue to view our current road status before any road travel:
www.tararuadc.govt.nz/services/roading/current-road-status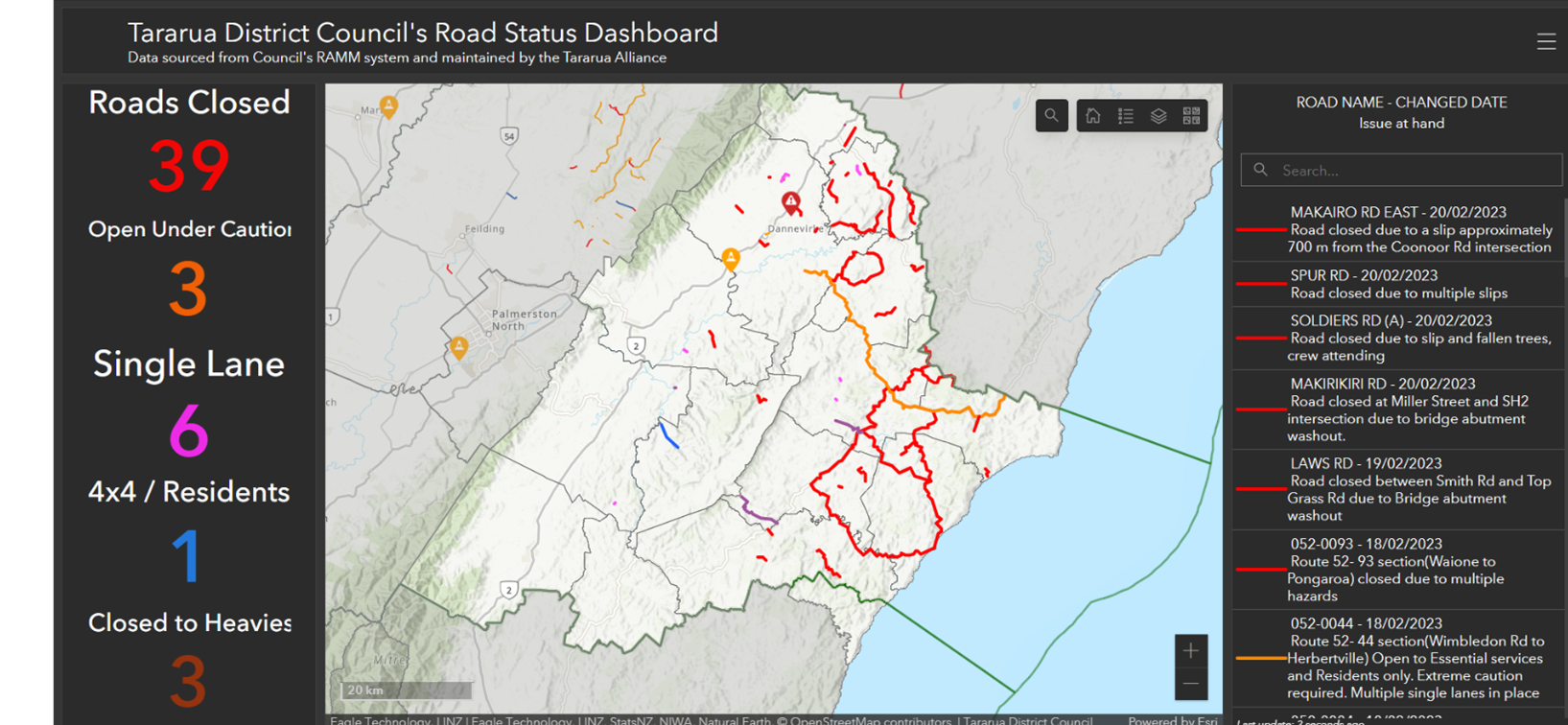 UPDATE ON WATER
Pongaroa: The boil water notice for Pongaroa remains in place until further notice. The water treatment plant is still shut down due to source water quality. The buildup of mud and debris effecting its operational capability. Although we have started treating the water, we are unable to sustain the demand and filters are blocking rapidly. In the meantime, there is potable water available at the water tank located at the community hall.­
Ākitio: TheĀkitio Water Treatment Plant is running and the water levels in the reservoirs are rebuilding. Chlorine levels are being topped up tomorrow. The boil water notice remains in place, and we hope to provide an update on the boil water notice soon.
Dannevirke: Water usage in Dannevirke remains high. We continue to remind residents that it's important to minimise usage now, to avoid water restrictions. We continue to test the Tāmaki River, and turbidity is slowly returning to treatable levels. The Dannevirke wastewater treatment plant has returned to normal function.
UPDATE ON POWER
There is still a small number of properties without power in the district. Power companies continue to work on establishing access to their services so that they can restore power to these households.
FINANCIAL ASSISTANCE
The government has announced an $11.5m Community Support Package to help people affected as regions respond to Cyclone Gabrielle. This Community Support Package aims to relieve some of this pressure so community groups and contracted providers can continue to deliver their response and recovery efforts for people, whānau and communities.
This Community Support Package sits alongside a suite of supports the Government has put in place to support those affected the recent North Island floods and Cyclone Gabrielle.
These include:
support to provide public transport assistance for disabled people
Civil Defence Emergency Management payments
Hardship Assistance payments through Work and Income
Rural Assistance payments and the Enhanced Taskforce Green
More info about the Community Support Package and other government support available can be found on the MSD website:
https://www.msd.govt.nz/about-msd-and-our-work/work-programmes/community/community-support-package-north-island-floods-and-cyclone-gabrielle.html
OTHER KEY INFORMATION
Public health advice after a flood: As you begin, or continue, the clean-up of your property key points to ensure the health and safety of yourself and others when dealing with the clean-up can be found on our website at www.tararuadc.govt.nz/news/2023/february/public-health-advice-after-a-flood .
Mayoral Relief Fund: The Mayoral Relief Fund is open for donations to help support Tararua communities find their feet after the devastation caused by Cyclone Gabrielle. For more details please go to our website at:
https://www.tararuadc.govt.nz/news/2023/february/mayoral-relief-fund-for-the-tararua-district
Mental Health Support: 1737 is New Zealand's national mental health & addictions helpline number. Free call or text 1737 any time to talk with a trained counsellor. It's completely free and available 24 hours a day, 7 days a week. Rural Support Trust is also available on 0800 787 254.
Welfare support is available: If you have been affected by the cyclone and need support, please contact us on 06 374 4080 or 06 376 0110 and let us know how we can help.