Cyclone Gabrielle update 17 - General Update and Key Messages
On Monday 20 February 2023 the government extended the National State of Emergency for another 7 days. Tararua District remains in its response phase under this extension until Tuesday 28 February 2023. in a response phase over this time.
This update will cover:
Key priorities
Last 24 hours
Plan for today
Update on roads, water and power
Other key information
KEY PRIORITIES
Our main priorities are now:
Gathering information on and visiting unaccounted people and property
Weather watch
Outreach convoy planning
Preparation for transition to recovery
Welfare needs prioritisation
Rural leaders meeting
LAST 24 HOURS
Yesterday, the outreach convoys visited the Tahuokaretu Road, Esdale, Wimbledon, Herbertville and Sugerloaf areas to conduct rural welfare needs assessments. The deputy Mayor, Councillor Erana Peeti-Webber assisted on an outreach task to Herbertville in order to deliver fuel for a digger assisting with the clean-up process, and petrol for generators.

Building inspectors also re-assessed a number of red-stickered properties. Aid to a property near Sugerloaf had to be carried in on foot over 2km from the road.
Horizons Regional Council supplied two 4WD vehicles that were used to undertake additional outreach tasks.
Our libraries and Customer Service staff have received many generous food donations as part of the Cyclone Gabrielle Food Drive. They have been used to prepare food parcels for those in need. We would like to thank everybody that has donated food items so far.
Tanked water has been supplied to top up the Pongaroa water supply to keep up with Pongaroa's demand for water.
Rangitāne o Tamaki nui-ā-Rua plan to set up a satellite office in Pongaroa over the next few days so they have a presence closer to affected communities.
Ngāti Kahungunu ki Tāmaki nui-a-Rua have now closed the civil defence centre at the Dannevirke Sports Centre on Anderson Street. The centre will be re-opened in the event it is required again.
Pink dots on the map below represent properties that have been contacted by the outreach teams over the last week. Red, and yellow dots represent locations where properties have been red or yellow stickered.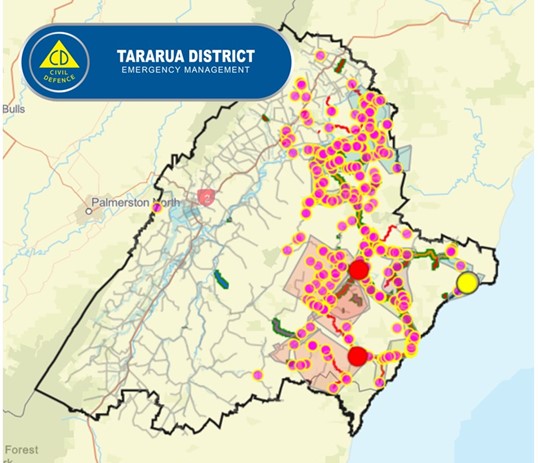 PLAN FOR TODAY - 22 FEBRUARY 2023
Today, Wednesday 22 February, the mayor will join the outreach convoy to Herbertville to offer support to the community and see the progress of their clean-up effort. The main tasks for today will concentrate on:
Welfare outreach convoys will visit rural properties accessible by 4WD vehicles only to assess outstanding welfare needs and complete known supply drops.
Help the community and volunteers with silt removal at Herbertville
Outreach tasks in the Ormondville area
Outreach tasks on Coast Road from the Marananga Gorge back around to and including Ākitio village and River Road to Waione.
UPDATE ON ROADS
Road closure numbers continue to fluctuate as roads are opened and more damage is discovered. Over the last 24 hours we have fluctuated between 29 and 39 closed roads. This fluctuation is likely to continue for some days. We currently have 29 roads closed.
Our teams continue to update the road status on the Council website as information is received. If you have new information about a road, please call us or report it using our Antenno app.
Please continue to view our current road status before any road travel: www.tararuadc.govt.nz/services/roading/current-road-status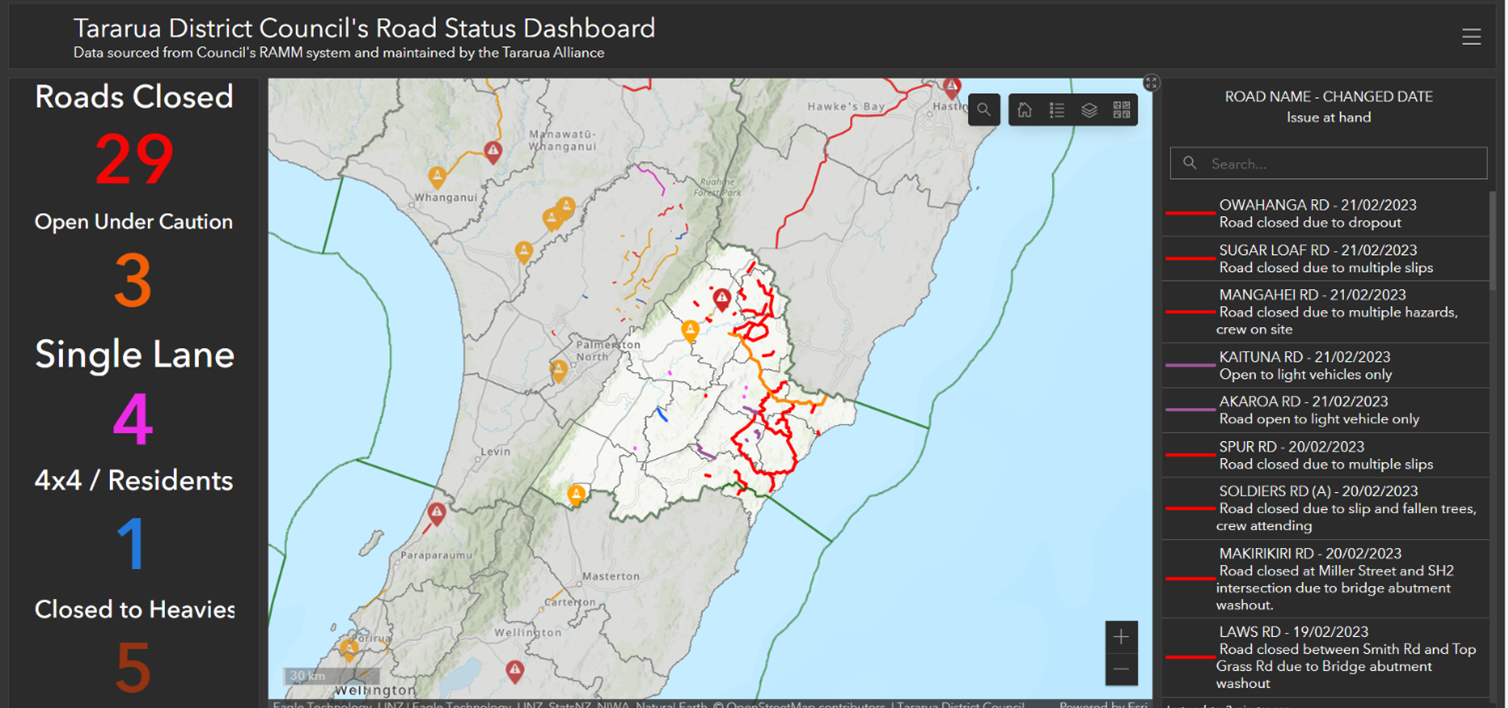 UPDATE ON WATER
Pongaroa: A water tanker topped up the water supply yesterday. Pongaroa residents who are directly connected to the water mains should now have water running to their homes. The boil water notice remains in place until water testing is satisfactory. A 15,000-litre tank of potable water is still available to draw from at the Pongaroa Community Hall.­
Ākitio: Due to a slip the Ākitio water treatment plant is only accessible by foot. Our teams will start water sampling today, where, subject to three days clear testing, we aim to remove the precautionary Boil Water Notice as soon as possible. Until then the precautionary Boil Water Notice remains in place for Ākitio.
Dannevirke: Water consumption levels in Dannevirke remains high. It is important to minimise usage now so that water restrictions can be avoided. Our teams continue to test the Tāmaki River, and turbidity is slowly returning to treatable levels. The Dannevirke wastewater treatment plant has returned to normal function.
UPDATE ON POWER
ScanPower report their network is stable and there have been no new power outages. They are working hard to clear trees from power lines along Bolton Road, near Ormondville. Due to the challenging terrain and the number of trees this is likely to take up to a week to complete. Once complete, this will bring the last remaining ScanPower customers online.
PoweCo brought power back to the last of their customers that had been cut off.
OTHER KEY INFORMATION
Public health advice after a flood: As you begin, or continue, the clean-up of your property key points to ensure the health and safety of yourself and others when dealing with the clean-up can be found on our website at www.tararuadc.govt.nz/news/2023/february/public-health-advice-after-a-flood .
Mayoral Relief Fund: The Mayoral Relief Fund is open for donations to help support Tararua communities find their feet after the devastation caused by Cyclone Gabrielle. For more details please go to our website at:
https://www.tararuadc.govt.nz/news/2023/february/mayoral-relief-fund-for-the-tararua-district
Mental Health Support: 1737 is New Zealand's national mental health & addictions helpline number. Free call or text 1737 any time to talk with a trained counsellor. It's completely free and available 24 hours a day, 7 days a week. Rural Support Trust is also available on 0800 787 254.
Welfare support is available: If you have been affected by the cyclone and need support, please contact us on 06 374 4080 or 06 376 0110 and let us know how we can help.
Community Support Package: This Ministry of Social Development (MSD) government funded package aims to relieve some of the financial pressure on community groups and contracted providers that have been delivering response and recovery assistance. For more information visit the MSD website at: https://www.msd.govt.nz/about-msd-and-our-work/work-programmes/community/community-support-package-north-island-floods-and-cyclone-gabrielle.html