Tararua District Council Consulting Its Annual Plan 2023/24
This morning, Tararua District Council adopted its consultation document and supporting information ahead of consulting on its Annual Plan 2023/24. The Annual Plan focusses on the proposed rates increase, water, wastewater, affordable waters reform, solid waste and cyclone recovery.
This Annual Plan has been one of the hardest plans to work through, with many factors that have come into play, many of which are beyond our control.
With financial, logistical and regulatory challenges throughout New Zealand, and elsewhere in the world and the fact that much of our infrastructure is already ageing and under-performing, Councils first rates increase budgeting stood at over 20%.
Council then looked at every single Council operating cost and rationalised budgets as much as they could. They looked hard at every service, programme and project on their books to find areas where spending can be reduced, or they can delay non-essential work. They have moved towards a user-pay system, where people pay for a service, without being subsidised by other ratepayers.
Even then, the proposed rates increase was at the 16.72% level. To reduce the rates increase from this lower (but still high) figure, Council looked at what they could do to reduce the increase further; one such method is proposing to not fund depreciation as they normally would as part of the Long-term Plan.
Without funding depreciation, Council now has a proposed rates increase of 13.18%. Around 86% of this total increase is attributed to water and wastewater. In real terms, this means, at the 13.18% increase proposal, the average rates increase for the year is a follows: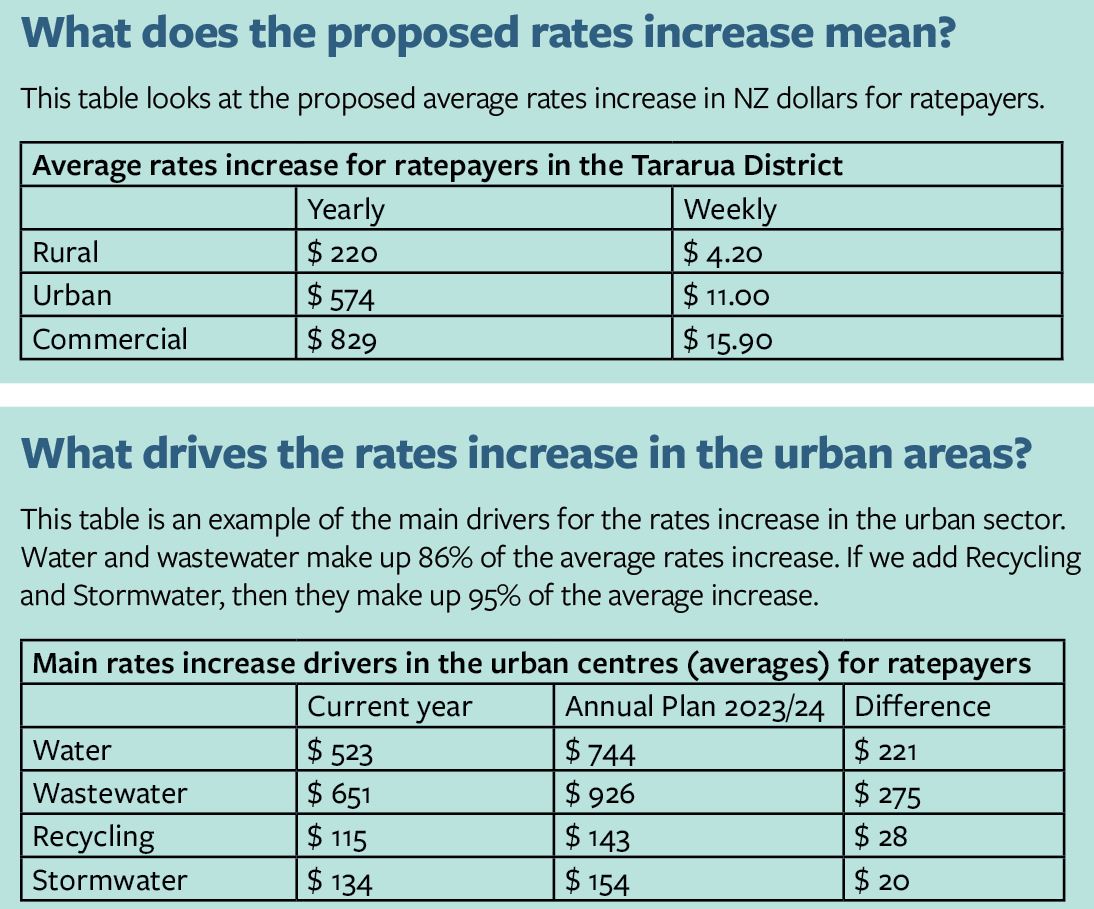 Tararua District Council will commence consultation and engagement on its Annual Plan 2023/24 from 27 April to 19 May 2023 where residents and ratepayers can provide feedback and submissions to Council.
Council is keen to come directly to organisations, committees, clubs and workplaces throughout the district to discuss the Annual Plan, answer questions and receive valuable feedback and submissions. Ideally this will be at the location of the community group.
Council is consulting over the period 27 April to 19 May 2023.
The topics being discussed are:
Proposed rates increase
Water
Wastewater
Affordable Waters Reform
Solid waste
Cyclone Recovery
How to book council speakers for an event
Council will also be using other means to engage with residents and ratepayers over the consultation period and those details will be posted on our website and Facebook pages as well as in the Bush Telegraph that will help the public engage with Council.
We look forward to meeting the public and discussing the Annual Plan.