Cyclone Gabrielle Update 15 - General Update and Key Messages
The Tararua District remains under the National State of Emergency that was declared on Tuesday 14 February. This will remain in force for 7 days.
This update will cover:
Today's focus
Plan for today
Update on roads, water and power
Other key information
TODAYS FOCUS
Our main priorities have been added to for today, they are:
Responding to community need (including future convoy planning)
Gathering information on unaccounted people and property
Capturing the intel gathered by our community outreach team (the convoy)
An increased Police presence in Rural areas
Evaluation of council resources
Opening roads that are closed for public access
Planning for further outreach convoys
Yesterday, our outreach convoys visited Ti Tree Point and surrounding areas to conduct rural welfare needs assessments and supply drops. In addition, a property on Sugarloaf Road had a helicopter drop off welfare supplies. The helicopter team also managed to check in on 6 properties where there is still no road access, and contact had not been made with the residents. The community was pleased to see our teams. There were some with welfare needs which we were able to help with on the spot. Planning is underway to assist further needs that were established on the visit.
PLAN FOR TODAY
Today there are three convoys departing for the Horoeka/Waione, Akaroa and Waihoki Valley/Mara areas to continue our community outreach and welfare needs assessments.
Information gathered from the convoys is passed directly to our teams in the Emergency Operations Centre. It is then processed so that council can identify the needs of the community and coordinate supply deliveries to support these isolated communities.
NZ Police will be asked today to provide an increased police presence in our rural communities for safety and security purposes. We recognise the vulnerable position this puts people in as they cannot access their properties. We hope that with the increase of police presence, our community feels safer and homeowners have a little peace of mind that we are doing what we can to keep them and their properties safe.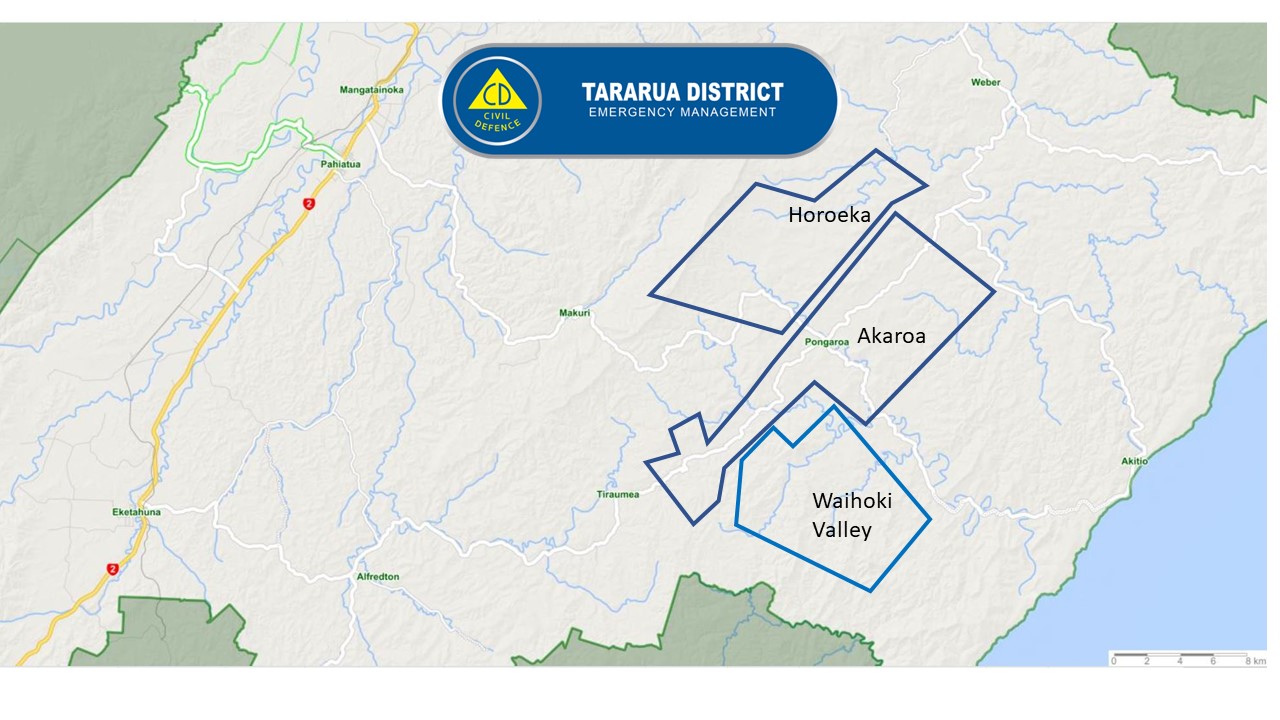 UPDATE ON ROADS
Our total number of roads closed has increased overnight from 35 to 36. 20 of these are open to emergency vehicles only and there are 15 roads that are closed to all vehicles.
There are 3 roads open under caution, 6 roads that are single-lane, 2 roads that are only accessible to 4WD's and residents and 3 roads that are closed to heavy vehicles.
Our teams continue to update the road status on the Council website as information is received. If you have new information about a road, please call us or report it using our Antenno app.
View current road status: www.tararuadc.govt.nz/services/roading/current-road-status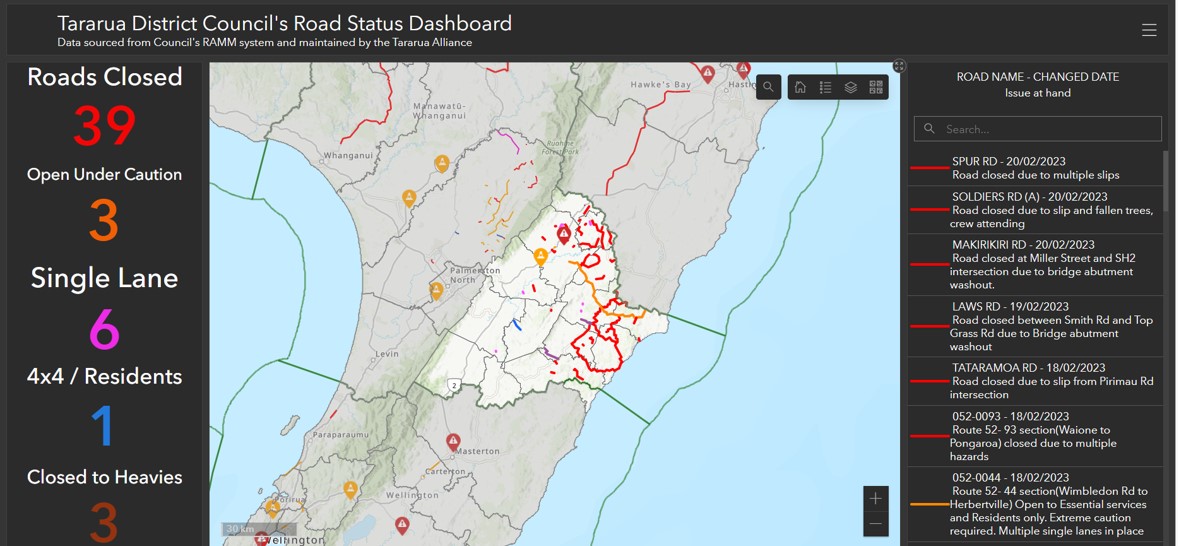 UPDATE ON WATER
Pongaroa: The water treatment plant is shut down due to source water quality and the build up of mud and debris effecting its operational capability. Our teams will be on site today where they will be flushing the system and replacing filters. This will take around 4 and half hours to complete. It is anticipated the plant will be started this afternoon and will begin treating water. There must be three consecutive days of acceptable test results before the boil water notice can be lifted. The boil water notice for Pongaroa remains in place until further notice. Water testing cannot be conducted until the system is recharged and the precautionary boil water notice is likely to remain in place until Friday. In the meantime, there is potable water available at the water tank located at the community hall.­
Ākitio: TheĀkitio Water Treatment Plant is running and the water levels in the reservoirs are rebuilding. Chlorine levels are being topped up tomorrow. The precautionary Boil Water Notice remains in place, and we will provide an update on the Boil Water Notice tomorrow evening.
Dannevirke: Water consumption levels in Dannevirke rose today and we're reminding residents that it's important to minimise use now so that we can avoid the need to implement any water restrictions. We continue to test the Tāmaki River, and turbidity is slowly returning to treatable levels. The Dannevirke wastewater treatment plant has returned to normal function.
UPDATE ON POWER
There is still a small number of properties without power in the district. Power companies continue to work on establishing access to their services so that they can restore power to these households.
OTHER KEY INFORMATION
Mental Health Support: 1737 is New Zealand's national mental health & addictions helpline number. Free call or text 1737 any time to talk with a trained counsellor. It's completely free and available 24 hours a day, 7 days a week. Rural Support Trust is also available on 0800 787 254.
Welfare support is available: If you have been affected by the cyclone and need support, please contact us on 06 374 4080 or 06 376 0110 and let us know how we can help.
Mayoral Relief Fund is open: Donations will go directly to flood relief for our community. You can make donations at our Customer Service Centres, Libraries or a direct deposit. The details for that are: Tararua District Council 03-0614-0088406-01 .
The reference is "Flood Relief".