Cyclone Gabrielle update 19 - General Update and Key Messages
The Tararua District remains under the National State of Emergency and continues to respond to the Cyclone Gabrielle event. In
This update will cover:
Key priorities
Last 24 hours
Plan for today
Update on roads, water and power
Other key information
KEY PRIORITIES
Our main priorities are now:
Gathering and validating information on affected communities
Weather watch and planning
Outreach convoy planning
Preparation for transition to recovery
Welfare needs prioritisation
Road Safety
Rural leaders meeting
LAST 24 HOURS
Welfare outreach convoys visited rural properties, only accessible by 4WD vehicles in:
Ākitio:

3 days of non-perishable food supply were delivered to the Ākitio Community Hall in case the forecasted rainfall cuts Ākitio off again.

Pongaroa:

Supplies were delivered by the outreach teams and were distributed by community co-ordinators in Pongaroa.

Herbertville:

Supplies were delivered by council and were distributed under the supervision of community co-ordinators in Herbertville.
Assistance was provided to the Herbertville campground clean up.
Council building staff conducted further building inspections resulting in one property being yellow stickered.
PLAN FOR TODAY - 24 FEBRUARY 2023
A main focus for today will be monitoring current rainfall and forecasted weather. In support of this, Horizons water teams are installing river level monitors on the Ākitio, Wainui and Owahanga rivers. These monitors will send out cellular alerts to council and those registered of any significant level changes which will be used for early warning purposes.
UPDATE ON ROADS
Key Message: Roads to our affected coastal regions are very vulnerable still, even more so now that we are having more rain. Many roads are closed to the public and are needed for the ongoing response effort. Anyone attempting to drive on closed roads, risks the safety of themselves and their passengers, will further degrade road conditions, and will hamper our response efforts. Do not travel on closed roads.
Road closure numbers have dropped slightly, there are now 27 closed roads. This total may fluctuate over the coming days as current and expected rainfall has an impact along our road network.
The Tararua Alliance are working hard on Route 52 to reopen the stretch from Weber to Ākitio, this is expected to be completed by Wednesday 1 March. Work to clear and open Sugarloaf Road and the Bolton Road Bridge is also being conducted by the Tararua Alliance today.
Our teams continue to update the Current Road Status page on the Council website as information is received. If you have new information about a road, please call us or report it using our Antenno app.
Please continue to view our Current Road Status page before any road travel:
www.tararuadc.govt.nz/services/roading/current-road-status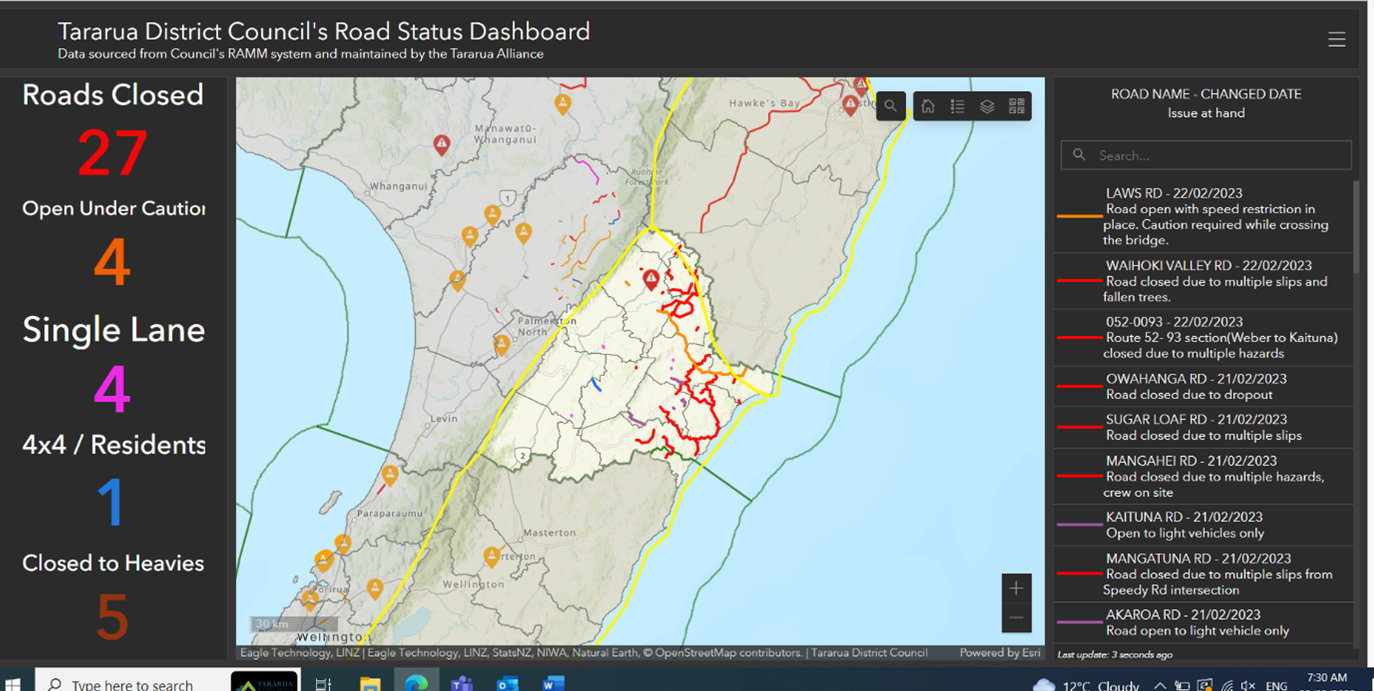 UPDATE ON WATER
Pongaroa: The Pongaroa water treatment plant is operating well, however, the precautionary boil water notice for Pongaroa remains in place. A 15,000-litre tank of potable water is available to draw from at the Pongaroa Community Hall.­ Today will be third day of water testing and if the results are satisfactory, the precautionary Boil Water Notice will be lifted this evening.
Ākitio: The precautionary boil water notice for Ākitio remains in place. The plant is operating well, and Thursday's water sample returned its first satisfactory test result. Further test samples will be taken today and tomorrow, Saturday 25 February. If both test results are satisfactory, the precautionary boil water notice will be lifted late on Saturday 25 February.
UPDATE ON POWER
Scanpower report their network is stable and there have been no new power outages. They have been assisted by the Tararua Alliance in clearing trees off the power lines along Bolton Road, near Ormondville and plan to have this completed by this evening. Scanpower expect electricity will be restored to affected properties on in the area by Tuesday 28 February 2023.
PowerCo continue to have a stable network. They are preparing resources to deal with the forecasted weather over the weekend. In addition, they are conducting aerial observation of their lines to identify any areas on the network that will need to be worked on.
OTHER KEY INFORMATION
Farmer and grower recovery grants: The Government is providing $25 million to help farmers, growers, and whenua Māori landowners recover from Cyclone Gabrielle. Grants for pastoral and arable farmers/growers of up to $10,000 to help initial recovery on-farm, such as repairs to water infrastructure for stock and fencing. Learn more:
https://www.mpi.govt.nz/dmsdocument/55630-Cyclone-Gabrielle-farmer-and-grower-recovery-grants
Public health advice after a flood: As you begin, or continue, the clean-up of your property key points to ensure the health and safety of yourself and others when dealing with the clean-up can be found on our website at www.tararuadc.govt.nz/news/2023/february/public-health-advice-after-a-flood .
Mayoral Relief Fund: The Mayoral Relief Fund is open for donations to help support Tararua communities find their feet after the devastation caused by Cyclone Gabrielle. For more details please go to our website at:
https://www.tararuadc.govt.nz/news/2023/february/mayoral-relief-fund-for-the-tararua-district
Mental Health Support: 1737 is New Zealand's national mental health & addictions helpline number. Free call or text 1737 any time to talk with a trained counsellor. It's completely free and available 24 hours a day, 7 days a week. Rural Support Trust is also available on 0800 787 254.
Welfare support is available: If you have been affected by the cyclone and need support, please contact us on 06 374 4080 or 06 376 0110 and let us know how we can help.
Community Support Package: This Ministry of Social Development (MSD) government funded package aims to relieve some of the financial pressure on community groups and contracted providers that have been delivering response and recovery assistance. For more information visit the MSD website at: https://www.msd.govt.nz/about-msd-and-our-work/work-programmes/community/community-support-package-north-island-floods-and-cyclone-gabrielle.html